Meet Lizz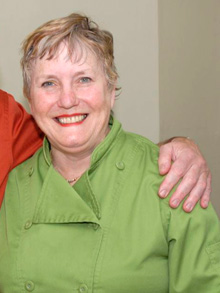 Feeding both the body and soul; After three decades of travelling to work through Vancouver's poorest neighbourhood, Lizz Lindsay decided that when she retired, she would feed the hungry. It took some planning but Lindsay launched Sharing Abundance, a weekly free lunch program for North Vancouver residents who need a human connection as much as a soup and sandwich.
---
FROM TEACHER TO STUDENT
Lizz Lindsay's first impulse was go to law school when she retired, but driving through the Downtown Eastside on the way to her college teaching job led to a change of direction.
"I saw more and more street people, homeless people, and there was very little I could do about it," says Lindsay, who taught dental hygiene at Vancouver Community College for 30 years.

"I used to keep packages of socks and underwear in my briefcase and leave them next to people sleeping on the street because it was all I could think of to do. But every day, it just seemed to get worse and worse."
When retirement was a couple of years away, Lindsay started thinking about feeding people. She had done some catering for her church's events, but she had no formal cook's training and no plan for how to turn her idea into a community program.
So, at 62 years old she went back to school, enrolling as a student in the same institution she had worked for decades. She graduated from the culinary arts program last May, and with the training taken care of, she started working on a plan.
"I live on the North Shore and I wanted to have a place where people could sit together and have a meal," she said.
"At first I wanted a community kitchen where isolated seniors could come and cook together and then eat, but it didn't seem to be right. I didn't find a lot of isolated seniors — they all seemed to have lots to do.
"Then I got a call from the minister at St. Andrew's church looking to start a community meal program. I had the training, I had a location, and now I had a need in the community."
Lindsay has always been an active volunteer — in the community, at work and at church. As a college teacher, she worked with her union to organize a social justice group in Metro Vancouver. At church, she taught Sunday school as well as helping in the wider community. About 12 years ago she was ordained in the Anglican Church and is now a deacon at St. Agnes Church in North Vancouver.
"My role is to be out in the community making a difference," Lindsay says. "It's all part of a real desire to serve people. It's a calling — it's something in your heart that you know is right."
Setting up a lunch program was a natural extension of Lindsay's desire to help. As soon as she graduated from the culinary arts program, she created a non-profit society called Sharing Abundance and started talking to local organizations about her plan and raising some cash to pay for food for a weekly soup-and-sandwich lunch.
"I wanted a place that was open to everybody, where people could come and sit and have a free meal served to them, and have some company too.
"There is hunger for food, but there's also hunger for community and feeling that somebody cares about you and will miss you if you're not there."
On Feb. 5, Lindsay and her friend Bette Geddes, a caterer and volunteer, opened the church hall doors at St. Andrew's for lunch. It was small — just 15 people that first day — but the number is rising as local groups hear of the program and pass on the message.
Lindsay's goal is to serve as many as 80 people every Thursday. "This is my retirement — it's my passion and it's just consuming me right now."
For Lindsay, it's not enough to hand over a sandwich and slosh soup into a styrofoam cup; she wants Sharing Abundance to be special. Volunteers come in and set the tables and serve her guests coffee and tea while they wait for lunch. The freshly made sandwiches are stacked with care and the homemade soup served in bowls — biodegradable paper for the moment. Sometimes there's even a sweet to finish the meal.
"It's not about shoving a sandwich at someone because they don't have the resources to buy it. It's a feeling of hospitality," she says. "We do things really nicely. We make the best soup and sandwich we can, cook it with love and serve it beautifully.
"This is just something small to make people's lives a little better."
CREDIT:
The Province
Sun Mar 8 2009
Page: A15
Section: News
Column: Sundayprofile
Source: The Province